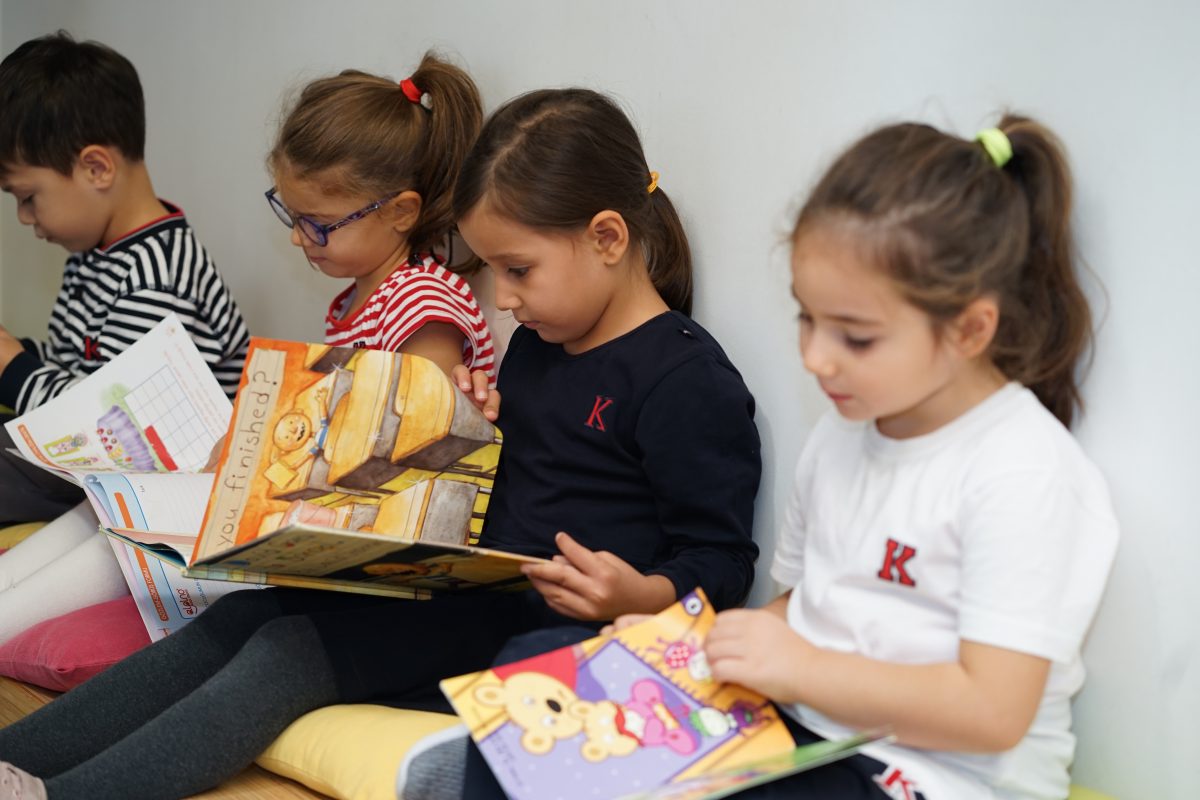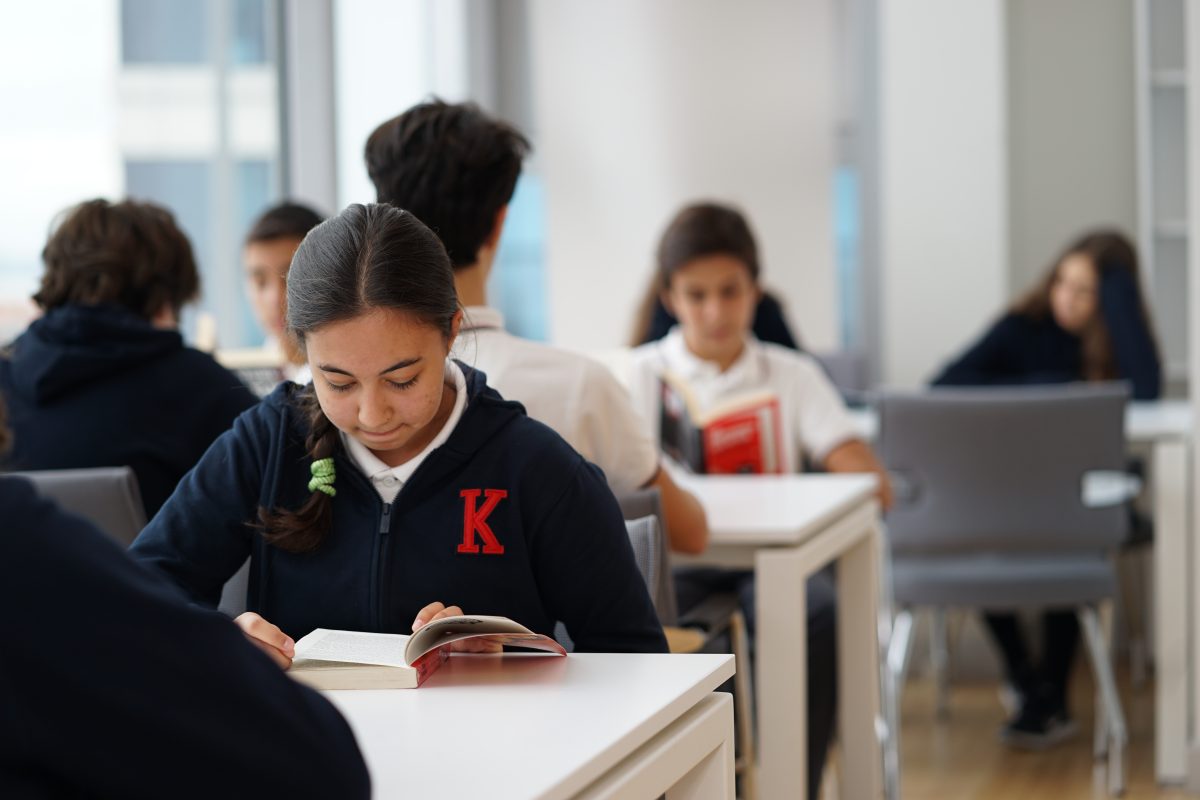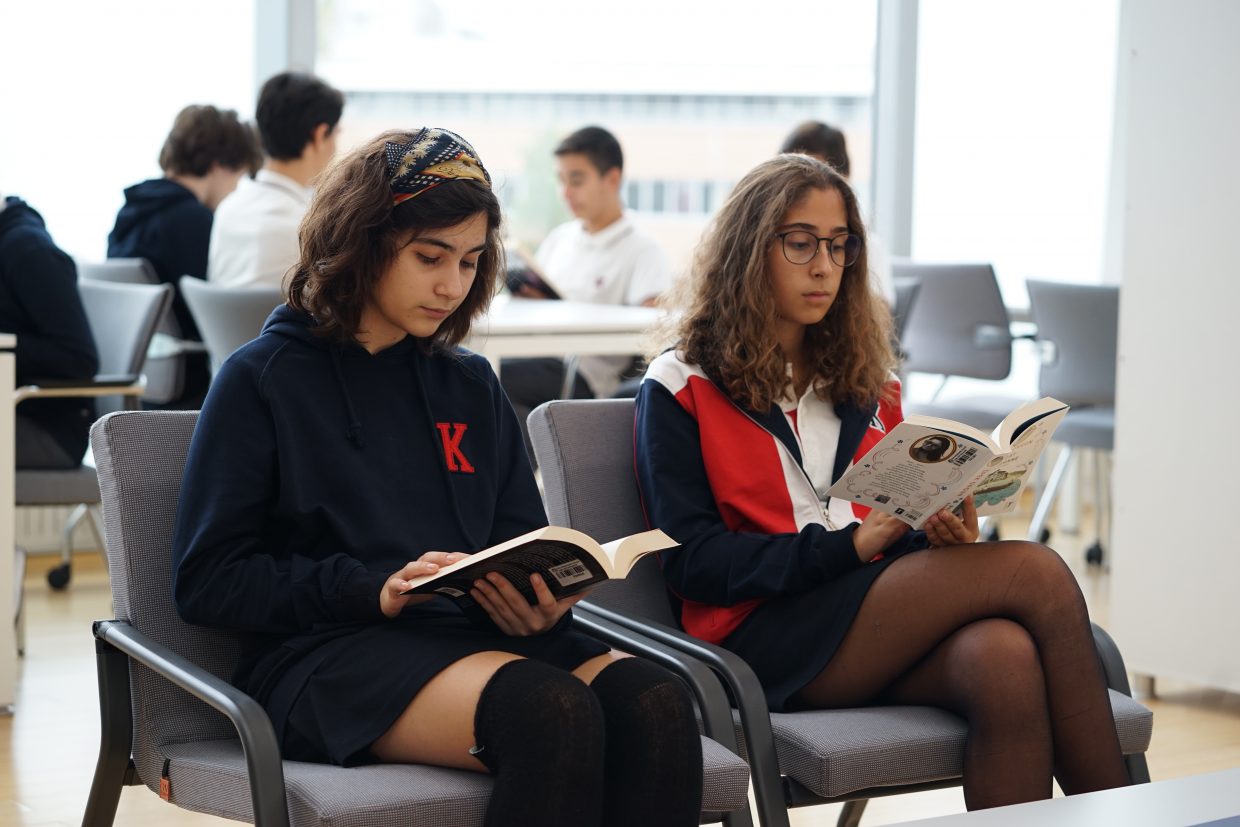 To visit the primary school library website
click here.
To visit the high school library website
click here.
Goals
The primary goals of TED Rönesans College's preschool, primary school and high school libraries are to:
* Provide accurate, reliable and modern information services in line with the school's education approach, mission and objectives,
* Foster a reading habit in students and provide with them access to a modern and diverse set of resources to fulfil their need for information,
* Instill in students the capacity for lifelong learning and information literacy,
*Help them understand research processes and the standards of "academic integrity".
Preschool Library
The preschool library occupies a 120 m2 area inside the preschool section of the facility, and is furnished with colorful shelves, tables, chairs and floor cushions to provide a comfortable environment for younger students and encourage them to explore the library, which offers a selection of reading and practice material suitable for preschool children.
Primary School Library
Located on the fourth and fifth floor of the school, the two-story library occupies an area of 200 m2. The first floor features bookcases, a sitting corner with floor cushions, desks and window side reading areas; the second floor has bookcases, desks and reading rooms.
High School Library
The two-story library in the high school section has opened in 2017 along with the high school section.
Collection
The library's collection consists of reading, research and reference material (encyclopedias, dictionaries, atlases) in Turkish, English, French, German, Spanish and Russian, periodicals, audio-visual material (DVD, CD) and electronic resources. The electronic resources include Linguascope and Britannica School Online database as well as open-domain online databases, periodicals, encyclopedias and dictionaries and support material for students and teachers.
All library resources are categorized based on DEWEY Decimal Classification and registered on Destiny Library Automation System and offered to the readers' perusal on an open-shelf policy. The library collection is also accessible online via the school website. The Destiny Library Automation System is a web-based library management software designed by the US firm Follet for K-12 schools. The software enables users to browse the electronic resources available (Home), search the library collection (Catalogue), view their checked-out, overdue, reserved and recommended books (My Info), check new additions and the top 10 most popular publications, create an account and make a list for their interests (My List), reserve the resources they wish to check out (Hold), recommend a resource to their peers (Recommend) and make a wish list for resources they would like to see added to the library collection (My Wish List).
Click for Destiny Quest web page
Library Classes
In addition to being able to use the library in recesses and other free time, students also visit the library once a week for a hour-long library class. Each week, library classes alternate between reading and information literacy activities designed in accordance with student level, during which they learn library rules, types of resources, listening and illustrating stories, designing bookmarks and book covers, using the library collection browsing software, the library categorization system, research methods, report making and academic integrity.
Library Rules
Library users are expected to adhere to the library rules of avoiding loud noises, not bringing in food or beverages and using library computers for research and literature review only. No library material may be taken out of the library without being checked out. Primary and middle school students are limited to two books for a period of 15 days. Teachers may borrow five books for a period of 15 days.
For periodicals, a single past issue may be borrowed by all users for a period of seven days. Digital materials such as DVD and CDs may be borrowed for in-premises use only. Reference material such as encyclopedias, collections and atlases cannot be borrowed; these can be used inside the library and photocopied as necessary. Due dates are specified inside the back cover of books, and borrowers are expected to know the due date of the material they check out. Due dates of any material may be extended by the library if the material in question has not been reserved for another user. Users are required to adhere to the due dates and return any material they have checked out on a timely manner, and will be restricted from checking out another item/other materials before returning any overdue items. Users are expected to display care in not damaging the materials they borrow and return them in the same condition, and will be liable to reimburse the library for any lost material or material damaged beyond usability.
Working Hours
Monday-Friday: 8.00 - 17.00 except holidays
Contact
Bürge SALİHOĞLU
Primary School Library Supervisor
Extension:
3807
E-mail:
burge.salihoglu@tedronesans.k12.tr
Sibel BAŞTÜRK TAN
High School Library Supervisor
Extension:
3773
E-mail:
sibel.basturk@tedronesans.k12.tr