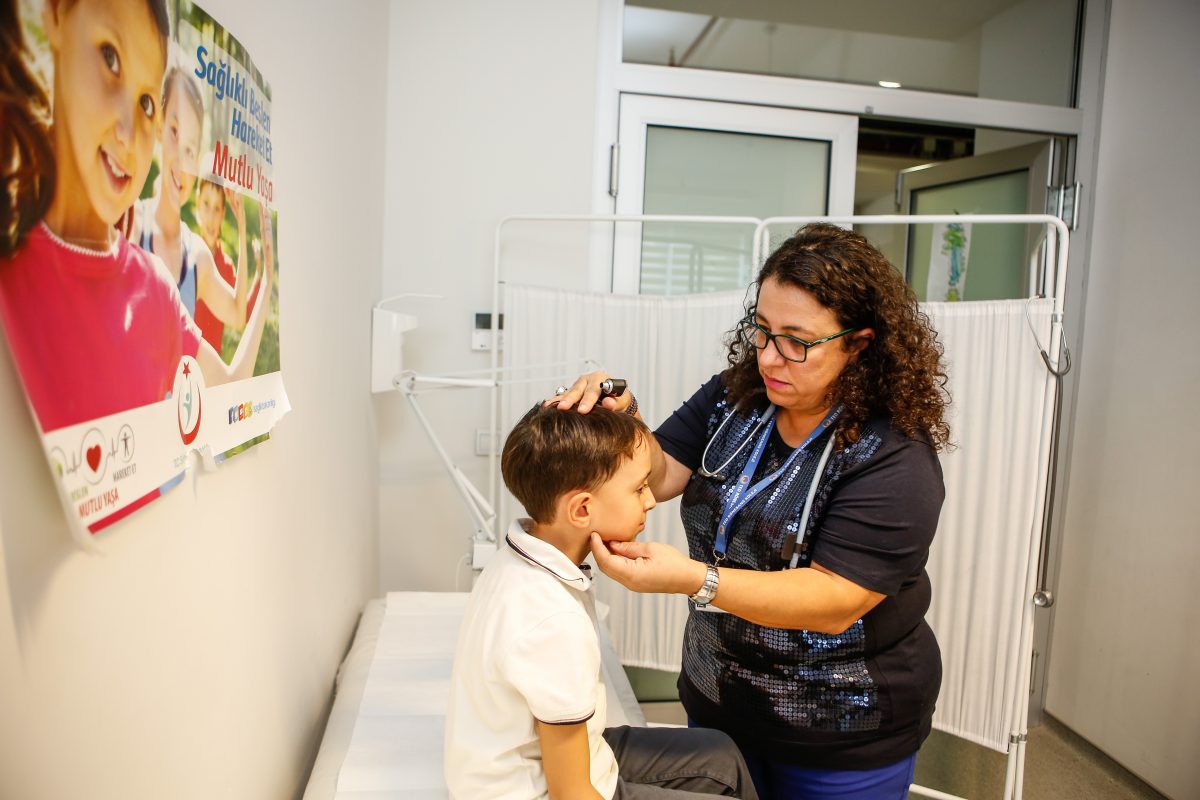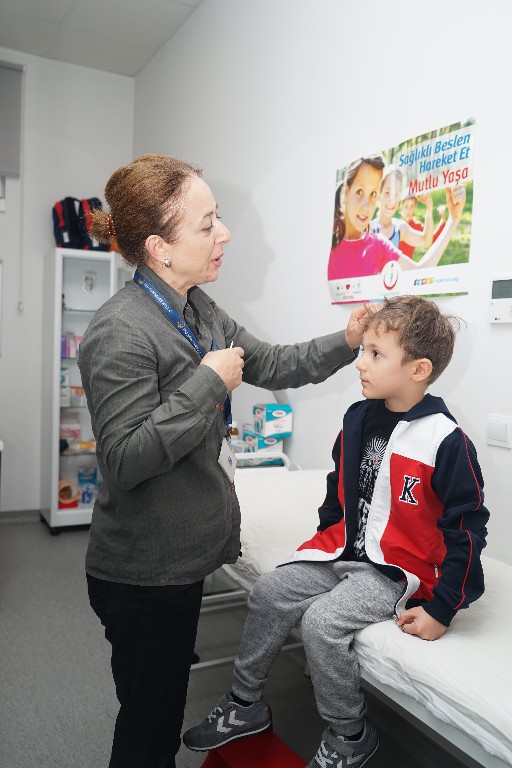 The school has two infirmaries that provide healthcare services to students during school hours. The infirmaries are staffed by a full-time specialist physician (family medicine) and a school nurse.

Student Medical Form
Parents are required to complete a "Student Medical Form" during enrolment, and notify the administration of any changes in the information they provided in the form.
Regular health information notifications sent to parents throughout the year enable for collaborative monitoring of student health. Any medical problems that may occur during school hours are also reported to parents by our healthcare staff.

Special Healthcare Needs
Parents are required to inform the administration and healthcare staff of any special healthcare needs or prescription drug use of their children, and submit a medical report, if available, from their child's physician, as well as a report of their vaccination history.

In case the student is allergic to a certain medication, food, etc., the parents are required to provide a physician's report detailing the condition to inform necessary precautions and to establish a healthy environment.

Community-Acquired Infections
It is imperative to ensure that students who are currently suffering from community-acquired infections (upper pulmonary tract infections, rashes, other illnesses accompanied by diarrhea and fever, etc.) do not attend school. The school policy dictates that students who begin displaying symptoms of contagious diseases are sent home without delay, both to facilitate recovery and eliminate the risk of contagion within the school premises.

Home rest will help with the recovery of students who show signs of contagious diseases, such as runny nose, fever, cough, diarrhea, or parasitic infections. The parents of the students who show these symptoms during the day are contacted by the school infirmary and may be asked to take their children home to rest. We also ask the parents of children with infectious diseases to obtain and submit to the infirmary a "Physician's Report" to allow us to inform other parents in a timely manner.

Special Diets
The school physician or nurse may prepare special diets for students who must avoid certain types of food in the school's lunch menu.

Medications
Students who have to take their prescribed medication during school hours and within school premises are administered in the infirmary. A "TED Rönesans College Medication Usage Tag" must be filled in and submitted to the infirmary for each such medication. The "TED Rönesans College Medication Usage Tag" is distributed to parents at the beginning of the academic year in the parent-teacher meeting. Parents may request additional tags from their form teachers or the help desk attendants. Medications not tagged by parents or brought to school grounds inside its original package may not be administered within the school premises.

Supplements such as vitamins, probiotics, etc. as well as medications not licensed in Turkey should be taken at home. Whenever possible, medication should be used in meal breaks such as breakfast, lunch or afternoon snack.

Preventative Medicine
Parents are notified in writing about announcements and preliminary information on healthcare activities by the Public Health Agency of Turkey, which are implemented in the school via the Istanbul Public Health Agency's Maltepe Community Healthcare Center. Parents must provide written consent before their children may participate in such healthcare activities, which will be conducted by the Maltepe Community Healthcare Center personnel in the school infirmaries and under the supervision of the school physician and nurse.

Hair Inspections
As head lice are spread in common environments by direct contact or through shared belongings, the school conducts routine hair inspections twice a year. In case head lice is spotted on a student's hair, the student's parents are contacted, given advice on head lice removal, and asked not to bring the student to school before they are free of lice. Parents are expected to exercise utmost care in this regard to ensure the health and safety of other students.

The purpose of the inspection is to check all students at the same time and ensure coordinated measures and cleaning in case an infestation is spotted. You are also recommended to check the hair and scalp of your children against lice at home on a regular basis.

Body-Mass Index Tracking
Childhood obesity is an issue that is growing in prevalence. Accordingly, the school regularly measures the students' height and weight to both raise awareness on this issue and to track student BMI via percentile curves. Parents are informed of the assessments on an individual basis.

Respect for Privacy and Individuality
School healthcare staff shares any information regarding a student's medical condition only with the individuals (physicians, relatives, etc. referred to by the parent) specified in the "Student Medical Form".
In all healthcare-related processes, protecting the student's rights as an individual and a patient, especially privacy, is paramount.
The infirmary is staffed by a full-time specialist physician (family medicine) and a school nurse.